Home Barista Challenge – Bringing the Coffee Community Together
In May we launched the Home Barista Challenge to see how people had been perfecting their coffee game at home during COVID-19 isolation. We understood that an entire community of passionate Australian coffee drinkers had their regular local café based routines interrupted and we wanted to find out how they had turned to their own kitchens to get that perfect brew. The competition also focused on our desire to support the specialty coffee industry through the COVID-19 crisis by asking consumers to support their favourite local roasters, baristas and cafes by purchasing their coffee and milk locally and referencing them in their Home Barista Challenge entries.
Given the isolated nature of COVID-19 restrictions, the challenge involved coffee lovers submitting video entries focusing on coffee technique and creative flair. There was a huge response and the entries were predictably diverse; from people creating latte art, showcasing their home coffee setup, providing insights into their morning coffee making routine, highlighting techniques in creating the perfect shot of espresso to the ways they were grinding their beans to create the best tasting cup. The prizes included a La Marzocco Linea Mini coffee machine valued at over $6000 for the winning entry with the runners up receiving one of two Mahlkonig Espresso grinders courtesy of AMC Roastery Supply & Hemro Group.
We were fortunate to be able to involve some of our specialty coffee partners in the initiative. The judges for the competition featured some of the top names in Australian Specialty Coffee: Matt Lewin (Ona Coffee)  – Australian Barista Champion 2019, Paul Jackson – Owner & Managing Director of Danes Specialty Coffee and 2018 & 2019 AICA Champion Australian Roaster and Shin Fukuyama (St.Ali Coffee Roasters) – Australian Latte Art Champion 2018. They had the unenviable task of picking a winner from over 130 entries and ultimately chose what we believe were three fantastic and worthy winners.
3rd place – Tom Ryan
In 3rd place, was Tom Ryan (@tee_ryn) whose incredible entry illustrated how he had been making coffee at home, including footage on the unique way he sourced his Riverina Fresh milk. Tom won a Vario Home grinder valued at $860.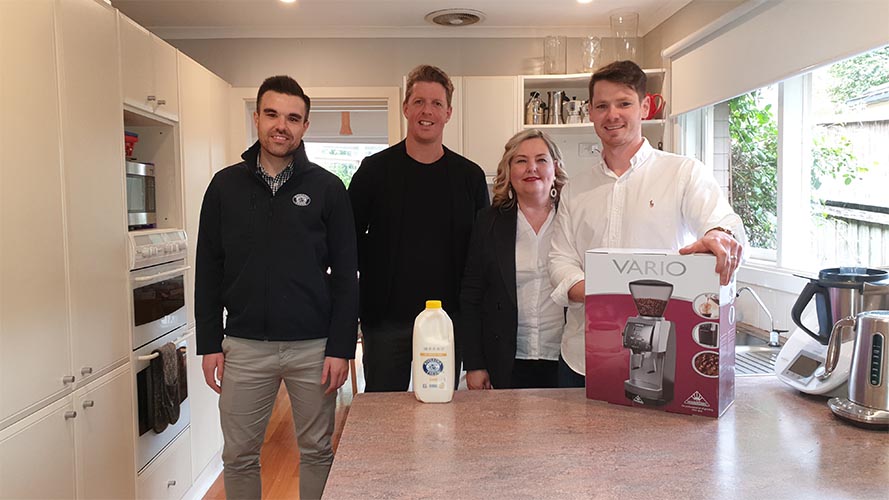 Neal Hayes (Riverina Fresh), Ross Quail (Hemro Group), Lisa Mazzarella (Riverina Fresh), Tom Ryan
2nd place – Mark Voget
Our 2nd place winner was Mark Voget (@markv088) for his very creative at-home coffee process entry. Mark won a Mahlkonig E65S Espresso grinder valued at $3150.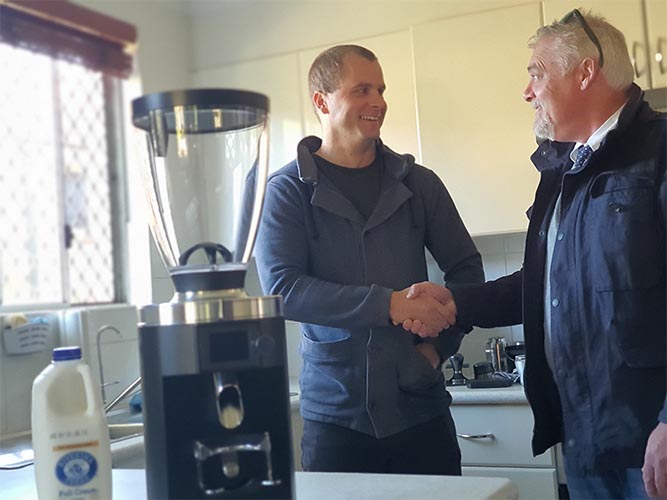 Mark Voget, David Worth (AMC Roastery Supply)
1st place – Ben Beck
The winner of our Home Barista Challenge was Ben Beck (@bjeck14) for his 'A coffee lesson with the baby barista' entry. Ben and his young son Angus had an amazing entry that included technical elements of creating great coffee combined with some special commentary front Ben's infant son. We are sure Angus is going grow up to be a very talented barista with their prize of a La Marzocco Linea Mini.
Ben also informed us that he intends to donate part of the proceeds from the sale of his old Rocket coffee machine to an Australian Indigenous Injury Prevention Scholarship which will be facilitated by the Australasian Injury Prevention Network. The scholarship will provide support for an Australian indigenous injury prevention researcher or practitioner to attend either the World Injury Conference (Safety 2022) or the next Australasian Injury Prevention and Safety Promotion Conference. A very generous gesture by Ben and a worthy outcome from the competition.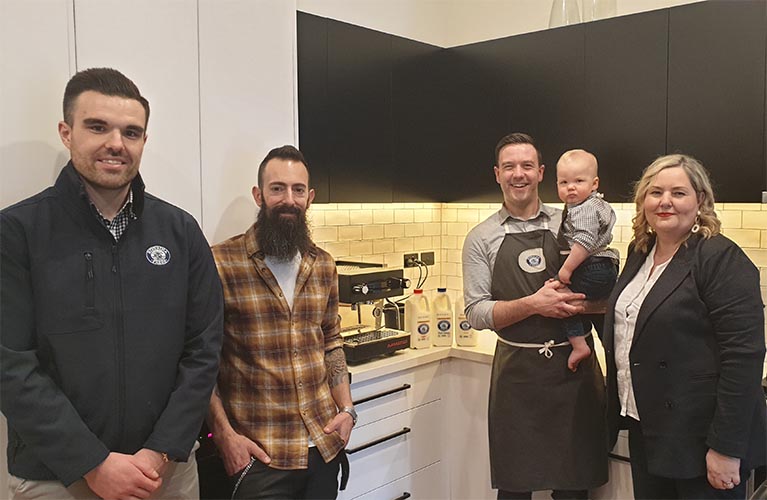 Neal Hayes (Riverina Fresh), Andy Di Donato (La Marzocco), Ben & Angus Beck, Lisa Mazzarella (Riverina Fresh)
We were thrilled with how the competition was received by the coffee loving community and would like to thank everyone who entered the Riverina Fresh Home Barista Challenge. We loved learning how everyone who entered created their coffee at home.
To view the rest of the amazing entries please click the hashtags below.
Instagram: #homebaristachallenge
Facebook: #homebaristachallenge