Site visits the order of the week at Riverina Fresh
Bringing together customers, distributors, and collaborators
Riverina Fresh we are delighted to be able to regularly bring customers, distributors, collaborators, members of the media and more to both our factory in Wagga Wagga, and our farms dotted throughout the Riverina. It is a great opportunity to give people an up-close look at the intricacies involved in milk production. Last week was quite a busy one, with two very different site visits in two days.
On Thursday we invited a group from of our customers and our distributor in Albury-Wodonga, Linda Coon of Coon's Dairy to visit Cliff Twigg's farm in Corowa. The trip was an opportunity to bring our farmers, distributors and customers together to learn about and support each other's businesses. With the ongoing drought challenge being faced in dairy and agriculture in general, being able to speak with Cliff on his farm gave those in attendance a greater understanding of the work that goes into making the milk that is delivered to them daily. It was also great for Cliff to hear first-hand the feedback and appreciation of these local businesses. We hope to further develop the connection between these businesses and Riverina Fresh in the future and look forward to growing the brand in the Albury-Wodonga area.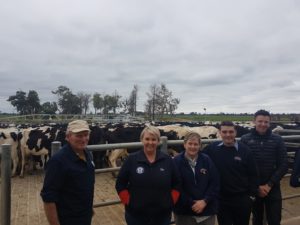 The following day we had the pleasure of welcoming a Singaporean TV crew to Wagga Wagga for a different type of visit, focusing on telling the story of Riverina Fresh as an Australian owned milk brand. The crew were accompanied by members of the Ona Coffee Canberra team, Hany Ezzat and 2019 Australian Barista Champion Matt Lewin. The Singaporean TV program, "Our Daily Food" – centres around filming 'Paddock to Plate' food stories in Canberra and South West NSW. The crew were keen to explore Riverina Fresh's premium milk story as well as our relationship and collaboration with specialty coffee experts Ona Coffee. The day started early with a trip to Neil and Simmone Jolliffe's farm in Euberta to get footage of the morning milking and interview Neil and Simmone. This was followed by a visit to the factory in Wagga Wagga where we spoke a little about what we do as a company and Matt Lewin discussed the collaborations we have had with Ona coffee, in particular around developing our Riverina Fresh Gold milk. We hope to see footage from the day when it is aired in Singapore later this year. Sarah Baker, editor at Beanscene magazine also joined the visit and the story will be featured in an editorial in their magazine in October. Plenty of interesting media coverage to look forward to.