Innovation, Research and Development (R&D)
At Riverina Fresh, we seek to take a collaborative approach to innovation and R&D that considers end to end benefits through our supply chain from farm to consumer, provides measurable benefits and commercial outcomes. We work closely with key partners, leading research institutions and experts in their fields.  We take a holistic view to innovation and look for improvements in systems and processes, applications of technology as well as development of finished products.
Our approach to research and development (R&D) is fuelled by curiosity and focused on solving problems that create an impact.
We are always in search of new, smarter, and more innovative ways to work with our partners and stakeholders.
Investing in New Product Development and Innovation
Riverina Fresh have committed to spend 5 per cent of our profit on innovation and R&D initiatives. This will include a continued focus on working with our suppliers to optimise on farm practices, improvements to our supply chain and operations, and development of innovative new products that meet our customers' and partners' needs.
Implementing Industrial Internet of Things (IoT) – Rayven
Increasing visibility of real-time data and accessing new metrics of efficiency to reduce downtime in our Wagga Wagga dairy plant.
Riverina Fresh was operating with some older equipment operated from the factory floor which lacked real-time oversight and optimisation. After a process of review, engineering management identified potential improvements to the production process that could be realised with increased visibility of real-time data and access to new metrics of efficiency.
We were introduced to Rayven by Bridge Hub, the Agrifood tech innovation hub. We collaborated with Rayven to help develop their product for some of our older equipment, bringing it into the 21st century. This was achieved for a relatively low cost and without the need to replace existing equipment. This is an example of modernising a manufacturing business without having to outlay significant capital expenditure.
Rayven IoT was selected as the cloud-based platform of choice based on its ability to integrate seamlessly with existing infrastructure, as well as the customisability of the real-time calculations and dashboards.
The outcomes derived from implementation of the solution included increased run-time and throughput, with opportunities for additional gains as Riverina Fresh use the new metrics to track and improve changeover between products and reductions in line downtime.
Actionable Intelligence across the Dairy Supply Chain – Milk Moovement
Monitoring and managing the flow of milk from farm to factory is one of the most fundamental elements of the Riverina Fresh business. It provides us with the critical information about the quality and quantity of milk we collect every day from our dedicated farmers. This then allows us to continually optimise our operational performance and profitability.
Riverina Fresh has a strong commitment to innovation across all aspects of the business. In collaboration with the agrifood tech innovation hub, Bridge Hub, we undertook a global search to find the best-in-class software that solved the need to improve and optimise our milk flow management.
Utilising Bridge Hub's global network, we discovered a relatively new business called Milk Moovement based in Nova Scotia, Canada. They had been working on a new software platform that was focussed on monitoring and managing the flow of milk from the farm to factory. This was the exact solution we were after.
Milk Moovement is a cloud-based software that provides a generational leap in capability compared with existing milk flow management software. They can seamlessly connect all players in the dairy supply chain with real time data through their cloud-based solution. Riverina Fresh is the first company in Australia to implement the Milk Moovement software.
The entire due diligence process and implementation was done virtually during the COVID-19 lockdowns. Both the software and the Milk Moovement team adapted to the Australian dairy industry landscape with ease, allowing for an extremely smooth transition from our old platform to Milk Moovement.
The deployment of the Milk Moovement platform provides vastly improved access to data for transportation monitoring, production tracking, quality monitoring and farmer payments.
We continue to work closely with the Milk Moovement team to focus on delivering enhanced analytical and reporting capabilities. This will provide further operational insights and greater operational performance for Riverina Fresh and just as importantly our farmers who supply us with the highest quality milk every day of the year.
Exploring the future of irrigation technology
In Australia's variable climate ensuring water use efficiency is a critical component of farm management for every dairy farmer. Riverina Fresh looks locally and internationally for the most relevant technology to solve challenges. As an example, Riverina Fresh is collaborating with Israeli based company N-Drip to explore improvements in irrigation technology for the dairy industry.
N-Drip is the first and only micro irrigation solution powered by gravity. It provides a simple and inexpensive drip irrigation solution that has the potential to dramatically increase water use efficiency and crop yields in the dairy industry. Riverina Fresh has partnered with N-Drip to trial and validate the potential of the N-Drip solution on dairy farms. N-Drip's technology is currently being trialled on the farms of a number of Riverina Fresh farmer suppliers.
Riverina Fresh Gold Milk
In recent years a deliberate engagement of the specialty coffee industry has led to some remarkable partnerships. Developed through exploring the science of milk and coffee, Riverina Fresh Gold milk was created through working closely with Sasa Sestic (2015 World Barista Champion) and the team from Ona Coffee. The higher fat milk complemented specific coffee roasts and blends. It was specially crafted to deliver a rich, creamy mouthfeel that balances darker, stronger coffees, while also allowing subtle, fruity and sweet notes to shine. It was used by recent Australian Barista Champions Matt Lewin and Hugh Kelly at the Australian Barista Championships and recent World Barista Championships.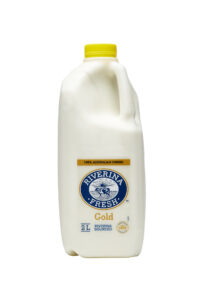 Riverina Fresh Lactose Free Milk
Lactose intolerance is the most common food intolerance in Australia. Approximately 4% of Australians are reported to suffer from lactose intolerance (http://www.roymorgan.com/findings/6673-lactose-intolerance-on-rise-among-australian-women-201602152253). Riverina Fresh set out to develop a lactose free milk that retained the highly regarded Riverina Fresh taste but also helped eliminate the symptoms associated with lactose intolerance. Lactose-free milk is made by adding lactase to regular milk, breaking down lactose into simple sugars that are easier to digest. Riverina Fresh Lactose Free milk (full cream and light) were developed after extensive development and sensory testing. Our Lactose Free full cream milk was recently awarded Champion White Milk at the 2020 Dairy Industry Association of Australia (DIAA) NSW awards – the first time in the history of the awards that a lactose free milk has taken home the overall champion white milk title.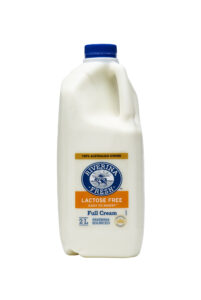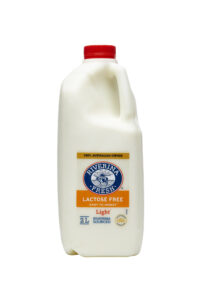 Get in touch
If you are a researcher or innovator who is looking to make a positive impact on the dairy supply chain please get in touch to explore how we might be able to collaborate.