Riverina Fresh Hosts Hon Michael McCormack and Hon Luke Hartsuyker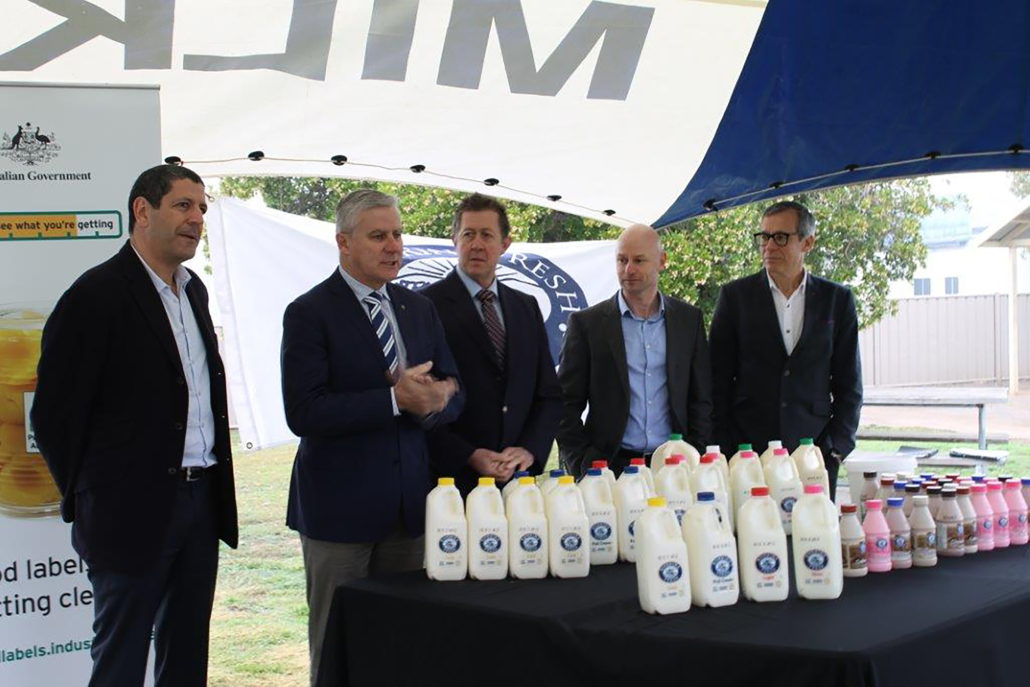 Craig Shapiro Blue River Group, Hon, Michael McCormick, Hon Luke Hartsuyker, Rob Collier CEO Riverina Fresh and Grant Fuzi Blue River Group.
Watch the WIN News Riverina video here:  https://www.facebook.com/WINNewsRiverina/videos
Riverina Fresh have adopted new Country of Origin Labelling to showcase the sourcing and manufacture of its dairy products in the heart of the Riverina NSW.
Ausralian owned Riverina Fresh has had a long history of manufacturing award winning milk and dairy products in the Riverina, NSW. They have now adopted Australia's new Country of Origin Labelling so consumers can better understand that their locally manufactured products are made using 100% Australian sourced milk, from the heart of the Riverina in NSW.
The Riverina Fresh manufacturing site was visited by Hon Michael McCormack Member for Riverina, NSW, Minister for Small Business and Hon Luke Hartsuyker Member for Cowper, NSW Assistant Minister to The Deputy Prime Minister.
Minister Hartsuyker commented "Australians want to know where their food was grown, made or packed, and how much was sourced from Australian farmers, and it's great to see this information front and centre on a range of products," Minister Hartsuyker said.
"Riverina Fresh is an early adopter of CoOL and has begun using the new labels on its milk products. Riverina Fresh is already building a reputation for quality amongst Australia's best baristas and it's great they're getting on board early with the CoOL changes and new labels. These labels give consumers the extra level of information they are seeking."
"For most food made, grown or produced in Australia, labels will feature the kangaroo in a triangle symbol and a bar chart indicating the percentage of Australian ingredients. Identifying where a food has been packed is no longer sufficient—labels make it clear where an item has been produced, grown, made or packed. Australian produce has a reputation of being safe, high-quality, clean and green, and consumers have a right to know where their food comes from."
Mr McCormack said it was great to see a local business such as Riverina Fresh in the leading pack on the changes, and encouraged more to follow its example.
"The CoOL changes give shoppers important information when selecting their groceries," Mr McCormack said. "It would be great to see more businesses involved in the changes ahead of time, including those across the Riverina. "The Federal Government is helping businesses with the process, with a range of assistance available including an online tool to help them identify appropriate labelling for their products."
Rob Collier, Chief Executive Officer of Riverina Fresh said, "As a 100% Australian owned business, we are extremely pleased to be using the new Country of Origin Labelling on our Riverina Fresh products. It's a fantastic way to recognise the 20 local farmers who supply us with high quality award winning milk direct from the Riverina."
About Riverina Fresh 
Riverina Fresh is a premium brand of specialised award winning milk, cream and yoghurts sourced from around 20 farms in the Wagga Wagga region of the Riverina, NSW.  The dairy farms are operated by local farming families, some of whom have been producing milk for multiple generations.
Riverina Fresh has been producing dairy products since 1922 and has earned a reputation as a high quality drinking milk. In addition, it has also earned a reputation as Australia's leading specialty coffee milk, and is highly regarded by baristas and roasters alike.
Riverina Fresh is an Australian owned independent dairy manufacturer owned by Blue River Group.
For inquiries, please contact Riverina Fresh Head Office 02 69378700.