Stewart & Rebecca Cole for Riverina FreshTM, Ladysmith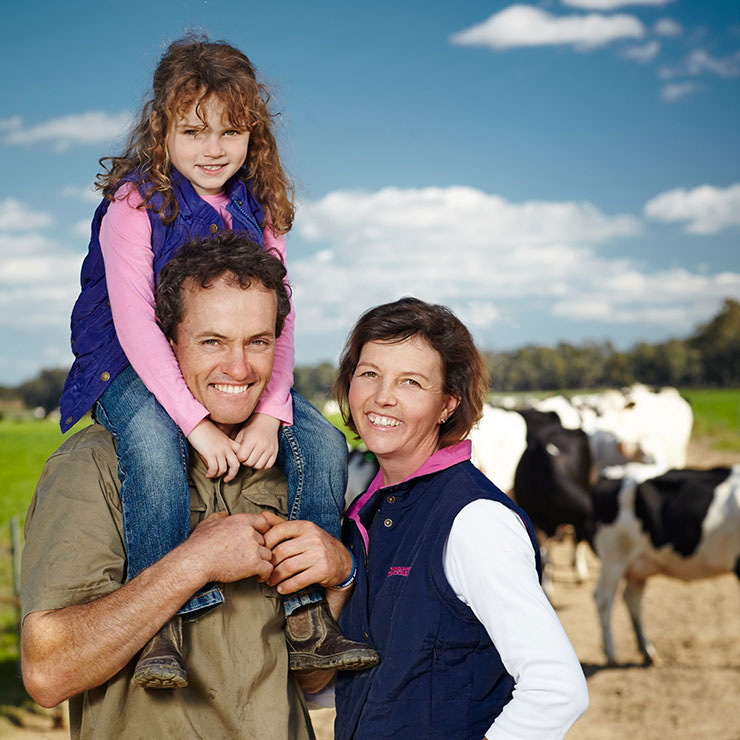 A third-generation dairy farmer, Stewart Cole, along with his wife Rebecca, are no strangers to the hard-working environments of farm-life and livestock care. Their farm, 'Yirrkala', is located in the township of Ladysmith (20km east of Wagga Wagga), and has been a dairy farm for over 40 years. With the rich history of their land lending a hand, the Coles produce over 1.3 million litres of milk annually.
Rising daily at 4:30am to start the milking and feeding (not to mention getting the kids off to school on time), may seem like a chore to some, but Rebecca says she couldn't think of a better lifestyle:
"Dairy farming is every farming industry tied into one operation. We grow pasture, rear calves, fence the paddocks – there is so much scope for learning new things.
"We love it all. As a family operation we get to spend time together – the kids learn responsibility and life skills from a young age, plus who wouldn't enjoy spending every day outside in nature, surrounded by animals?
"And whilst we do rise early, I do manage to sneak in a nanna nap most days to keep me going."
As a boutique operator supplying to Riverina FreshTM, Rebecca believes that the superior end product is a result of a combination of factors. Locally sourced, their milk is quickly bottled within 12 hours. It is this level of care and attention to detail which she feels contributes to delivering the award winning milk. Check out the Summer 2014-15 edition of the Inside the Riverina magazine here.
Source: http://insidetheriverina.com.au/?project=stewart-rebecca-cole-for-riverina-fresh-ladysmith